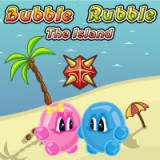 Bubble Rubble The Island
Try to avoid all impediments and make this couple to meet each other. Just use the mouse and collect all stars and cakes. Do you think that it is so easy? Well, then just try this and you will be not disappointed. Are you ready? Then go ahead!
5.0
/
5.0
-
1
Users reviews
2015-06-16 01:24:16
575
OS: Desktop
Instruction : Use Mouse/Keyboard to play.