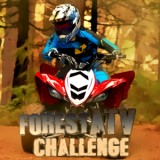 Forest ATV Challenge
This amazing vehicle is yours! Try to avoid any obstacle and beat your opponents! Everything depends on you, so just use arrow keys and cope with it as soon as possible! Are you ready for that? Have fun and try to do everything correct.
5.0
/
5.0
-
1
Users reviews
2015-06-12 07:11:27
717
OS: Desktop
Instruction : Use Mouse/Keyboard to play.