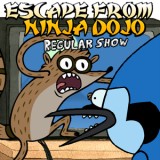 Regular Show Escape from Ninja Dojo
Rigby needs your help! You must do everything to explore this territory and save his friend. Is everything clear? Well, just launch him and try to stay alive as long as possible. Be ready for many unexpected surprises and enjoy the game.
5.0
/
5.0
-
1
Users reviews
2015-05-28 09:34:54
1975
OS: Desktop
Instruction : Use Mouse/Keyboard to play.